Servicing Pittsburgh PA and surrounding areas. We bring our industry experience to each and every project. Whether you're looking to finish a minor job or starting to plan a major project, our knowledgeable team has the skills and tools to make sure the job is done right and to leave you with a solution that you'll be proud to put to use.
Junk Worx specializes in all types of junk and debris removal. We can tackle a single item pickup such as an appliance or bring our team together to clean out a full hoarder house! We can help! Overwhelmed with junk? Give us a call right away!
We go to great lengths to donate, recycle, or repurpose as many items as possible.
Our team routinely cleans up construction sites and home remodeling projects for numerous clients and vendors. Did I mention that we monitor and clean up overfilled dumpsters and surrounding bin areas for our Management Company partners?
When the spring and fall seasons arrive, you can rely on us to whip your yard into shape in a timely fashion. No leaf or stick removal is too small!
We continue to build our reputation for personalized service and quality solutions with each and every client. We are dedicated to offering flexible solutions that work for you while also providing consistent results that meet our standards. Our team is large enough to deliver professional grade, durable solutions while offering the personal touches that ensure you meet your goals, exceed your expectations, and are fully able to put our solutions to use for continued success.
Contact us to speak with one of our knowledgeable team members and learn more about what we can do for you.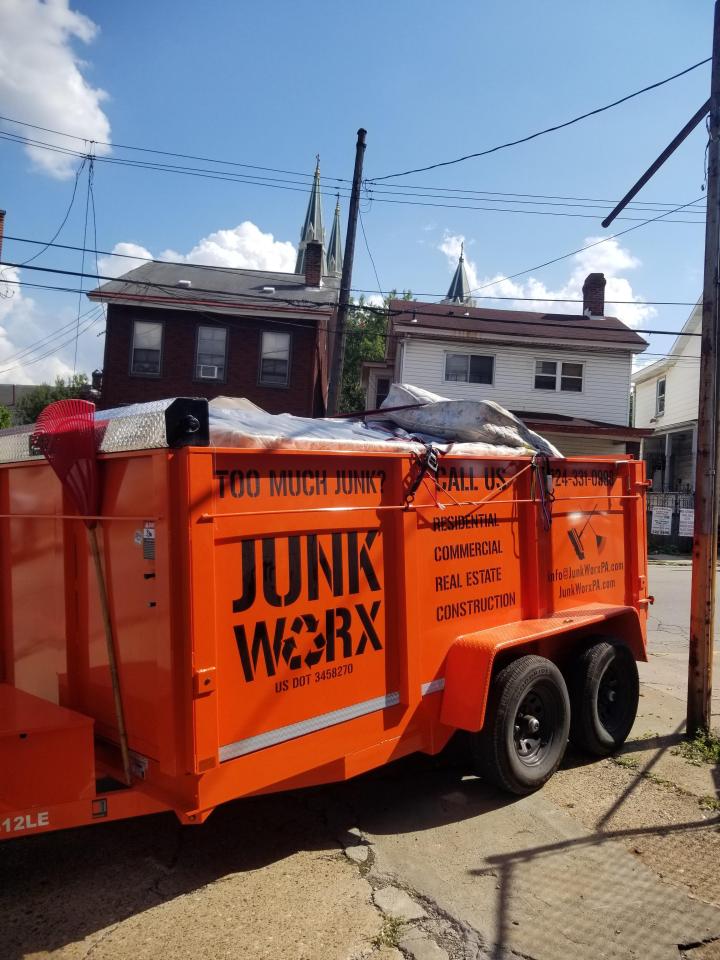 Service Areas
Westmoreland County
Acme 15610 Adamsburg 15611 Alverton 15612
Ardara 15615 Armbrust 15616 Arona 15617 Bolivar 15923
Bradenville 15620 Calumet 15621 Calumet 15689
Champion 15622 Claridge 15623 Crabtree 15624
Darragh 15625 Delmont 15626 Derry 15627
Donegal 15628 East Vandergrift 15629
Forbes Road 15633 Grapeville 15634 Greensburg 15601
Hannastown 15635 Harrison City 15636 Herminie 15637
Hostetter 15638 Hunker 15639 Hutchinson 15640
Hyde Park 15641 Irwin 15642 Jacobs Creek 15448
Jeanette 15644 Jones Mills 15646 Larimer 15647
Latrobe 15650 Laughlintown 15655 Ligonier 15658
Lowber 15660 Loyalhanna 15661 Luxor 15662
Lynnwood-Pricedale 15072 Madison 15663
Manor 15665 Monessen 15062 Mount Pleasant 15666
Murrysville 15668 Murrysville 15632 New Alex 15670
New Derry 15671 New Florence 15944
New Kensington 15068 New Stanton 15672 Penn 15675
Pleasant Unity 15676 Rector 15677 Rillton 15678
Ruffs Dale 15679 Salina 15680 Scottdale 15683
Seward 15954 Slickville 15684 Smithton 15479
Stahlstown 15687 Sutersville 15083 Tarrs 15688
Torrance 15779 Vandergrift 15690 Webster 15087
Wendel 15691 West Newton 15089 Whitney 15693
Westmoreland CIty 15692 Wyano 15695 Yukon 15698
Youngstown 15696 Youngwood 15697
Allegheny County
Allison Park 15101 Bairdford 15006 Bakerstown 15007
Baldwin 15236 Bellevue 15202 Bethel Park 15102
Brackenridge 15014 Bradford Woods 15015
Brentwood 15227 Bridgeville 15017 Buena Vista 15018
Bunola 15020 Carnegie 15106 Castle Shannon 15234
Cheswick 15024 Coraopolis 15108 Coulters 15028
Creighton 15030 Crescent 15046 Cuddy 15031
Dravosburg 15034 Duquesne 15110 East Mckeesport 15035
East Pittsburgh 15112 Elizabeth 15037 Gibsonia 15044
Glassport 15045 Glenshaw 15116 Greenock 15047
Harwick 15049 Imperial 15126 Indianola 15051
Jefferson Hills 15025 Leetsdale 15056 Mckees Rocks 15136
Mckeesport 15132 Mckeesport 15135 Monroeville 15146
Morgan 15064 Munhall 15120 Natrona Heights 15065
North Braddock 15104 North Versailles 15137
Oakdale 15071 Oakmont 15139 Pitcairn 15140
Pittsburgh all Zip Codes 15201,15219, 15220,15203,15204,15205,15206,15207,15208,15209,15210,15211,15212,15213,15214,15215,15216,15217,15235,15243,15260,15290,15237,15238,15228,15229,15232,15233,15222,15223,15224,15225,15226
Plum 15239 Port Vue 15133 Presto 15142
Rural Ridge 15075 Russellton 15076 Sewickley 15143
South Park 15129 Springdale 15144 Sturgeon 15082 Swissvale 15218
Tarentum 15084 Turtle Creek 15145 Upper St Clair 15241
Verona 15147 Warrendale 15086 West Elizabeth 15088
West Mifflin 15122 Wexford 15090 White Oak 15131
Wilkinsburg 15221 Wilmerding 15148
Fayette County
Adah 15410 Allison 15413 Belle Vernon 15012 Brownsville 15417
Cardale 15420 Chestnut Ridge 15422 Connellsville 15425
Dawson 15428 Deer Lake 15421 Dickerson Run 15430
Dunbar 15431 East Millsboro 15433 Everson 15631 Fairbank 15435
Fairchance 15436 Farmington 15437 Fayette City 15438
Gibbon Glade 15440 Grindstone 15442 Hibbs 15443
Hiller 15444 Hopwood 15445 Indian Head 15446
Isabella 15447 Keisterville 15449 La Belle 15450 Lake Lynn 15451
Leckrone 15454 Leisenring 15455 Lemont Furnace 15456
Markleysburg 15459 Martin 15460 Masontown 15461 McClellandtown 15458
Melcroft 15462 Merrittstown 15463 Mill Run 15464 New Geneva 15467
New Salem 15468 Newell 15466 Normalville 15469 Ohiopyle 15470
Oliver 15472 Perryopolis 15473 Point Marion 15474
Republic 15475 Ronco 15476 Smithfield 15478 Smock 15480 Star Junction 15482
Uledi 15484 Uniontown 15401 Vanderbilt 15486 West Leisenring 15489 White 15490 Wickhaven 15492
Somerset County
Acosta 15520 Addison 15411 Berlin 15530 Boswell 15531 Boynton 15532 Cairnbrook 15924 Central City 15926 Confluence 15424 Davidsville 15928 Fairhope 15538 Fort Hill 15540 Friedens 15541 Garrett 15542 Gray 15544 Hidden Valley 15502 Hollsopple 15935 Hooversville 15936 Jenners 15546 Jennerstown 15547 Jerome 15937 Markleton 15551 Meyersdale 15552 Quecreek 15555 Rockwood 15557 Salisbury 15558 Seanor 15953 Shanksville 15560 Sipesville 15561 Somerset 15501 Springs 15562 Stoystwon 15563 Wellersburg 15564 Windber 15963
Indiana County
Saltsburg 15681 Indiana 15701 Alverda 15710 Arcadia 15712 Aultman 15713 Black Lick 15716 Blairsville 15717 Brush Valley 15720 Chambersville 15723 Cherry Tree 15724 Clarksburg 15725 Clune 15727 Clymer 15728 Commodore 15729 Coral 15731 Creekside 15732 Dixonville 15734 Ernest 15739 Gipsy 15741 Glen Campbell 15742 Heilwood 15745 Hillsdale 15746 Home 15747 Graceton 15748 Waterman 15748 Homer City 15748 Josephone 15750 Juneau 15751 Kent 15752 Lucernmines 15754 Mcintyre 15756 Marchand 15758 Marion Center 15759 Mentcle 15761 Northpoint 15763 Penn RUn 15765 Rochester Mills 15771 Rossiter 15772 Starford 15777 West Lebanon 15783 Armagh 15920 Dilltown 15929 Robinson 15949 Strongstown 15957 Beyer 16211 Plumville 16246 Smicksburg 16256
Beaver County
Aliquippa 15001 Ambridge 15003 Baden 15005 Beaver 15009 Beaver Falls 15010 Clinton 15026 Conway 15027 Darlington 16115 Fombell 16123 Freedom 15042 Georgetown 15043 Hookstown 15050 Koppel 16136 Midland 15059 Monace 15061 New Beaver 16141 New Brighton 15066 Ohioville 15052 Rochester 15074 Shippingport 15077 South Heights 15081
DO NOT REMOVE - ADA WIDGET
3RD PARTY CODE